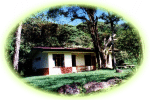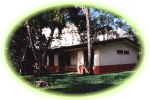 Lodging
The lodge has eight rooms with private bathroom and heated water, a small fridge and terrace. The realxing swimming pool in green setting has the Talamanca Mountain Range as impressive background. Birds are seen flying around all the time and it is always a nice spot for birdwatchers.
RATES
Breakfast and taxes included
Single occup.

US$36

Double occup.

US$56

Extra person

US$20

Children (6 to 12 yrs)

US$10

Children (0 to 6 yrs)

US$0

Group (8 persons or +)

US$24 / person

Groups (in single occup.)

US$30 / person

10% discount in Low season - - >
Our lodge is closed from Sept. 15 to Oct 31.

May 1 to June 30,
Aug. 15 to Sept. 15,
Nov. 1 to Oct. 31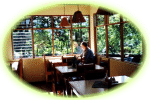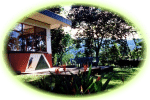 Restaurant
The small restaurant overlooks the rocky and sandy river side and serves healthy meals made by people that enjoy cooking. Desserts and juices are home-made. Don't forget to try our home-made goat cheese.
On Wednesdays our restaurant only serves breakfast.
Lunch: US$8   Dinner: US$10
| Home | Lodging | Location | Reservations | Back to exploringcostarica.com |
Tel: +(506)771-4582   Fax: +(506)771-8841
(SJO 0012) Selva Mar, 1641 NW 79th Avenue, Miami, Fl 33126-1105 USA
info@exploringcostarica.com