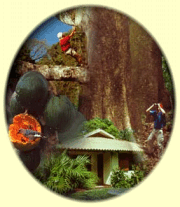 Hacienda Barú is a National Wildlife Refuge located on the Pacific coast of Southern Costa Rica. Its more than 775 acres of diverse tropical habitat--seashore, riverbank, mangrove estuary, swamp forest, secondary and primary tropical wet forest--have the same protected status as a national park. Over 320 species of birds and 105 species of mammals have been identified there.

Hacienda Barú's first class lodging is very clean, comfortable and quiet. Cook in your cabin or enjoy top quality tipical Costa Rican cusine at the moderately priced, open air restaurant.

Near the bungalows there are 3 km of walking trails, a bird observation tower, and two kilometers of isolated pristine beach for your enjoyment.

Hacienda Barú offers a number of guided tours including hiking, horseback riding, over night camping in the jungle or on the beach and canopy exploration. You can zip through jungle on cables in an aerial rainforest adventure or ascend to the crown of a massive rainforest tree. The variety of activities available Hacienda Barú will fill your days with pleasure and excitement.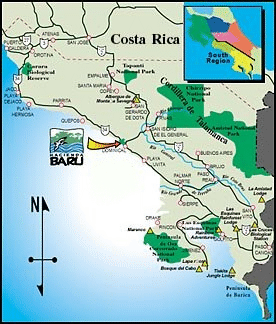 How to Get Here?

On the Southern Pacific Coast near the town of Dominical. There is a choice of two routes from San Jose: San José - Quepos - Hacienda Barú (305 km, 5:15 hours) You will see the Hacienda Barú sign about 47 km south of Quepos on the road to Dominical. The road from Quepos is not paved.

San José - San Isidro de El General - Dominical - Hacienda Barú (169 km, 3:45 hours) 37 km after San Isidro the road dead ends. Turn right and go 2 km. and then left on the road to the beach. You will see the Hacienda Barú sign's there.