The Centro Neotrópico SarapiquiS has been designed and developed as an exclusive eco-model-project in Costa Rica. Guests can stay comfortably in the Sarapiqui's ecolodge on the edge of Tirimbina biological reserve, visiting the museum and botanical garden or exploring the 350 hectare of rainforest. Students of all ages can improve their knowledge of natural history, botany or ecology in the modern education center helped by a select staff of experienced professionals.

The architecture of the Sarapiquís project is inspired by the indigenous pre-columbian architecture of the palenques. The ecolodge consists of 4 palenque units; 1 central unit with lobby, restaurant, bar, shop and offices and 3 guest units with each 8 exclusive rooms.
All rooms have:

covered terrace

fans

complete bathroom

telephone

internet connection.
All the units are located in the lush gardens and orchards of the property and are connected with a overed walkway. Eight rooms have an outstanding view on the rainforest canopy and the Sarapiqui river.
Occupancy
High Season
Dec, 1st 03 to
May 14th, 04
Low Season
May, 15st 04 to
Nov 30th, 04
Standard
Single or Double
US$95.44
US$81.47
Deluxe
Single or Double
US$104.75
US$89.62
Extra person US$25
Children (4-16) sharing room with Adults US$15



The restaurant features local and vegetarian cuisine


Guarded parking


Room service and laundry


Local excursions




Tortuguero
Sarapiquí River Boat Tour
Archeological Site Tour
Banana Plantation Tour
Aerial Tram, Braulio Carillo


Tirimbina Rainforest Hike
Visit to La Selva Biological Station
Rafting and Canoeing
Horseback riding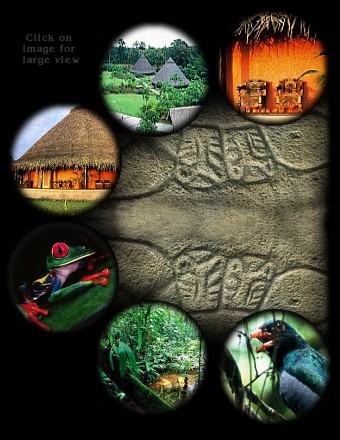 Species diversity is spectacular in this lowland rain forest. Nearly half of the 850 species of birds in Costa Rica are found in this area, along with five of the six species of cats in the country. Peccaries, agoutis, coatis, sloths, and howler and spider monkeys are seen frequently, as are showy birds of the trogon family, chestnut-mandibled and keel-billed toucans, collared araçaris, white crowned parrots, and hummingbirds whose iredescence shimmers in shafts of light. The wet season rains bring out deafening choruses of frogs; flashes of the tiny red and blue poison-dart frog catch the eye along trails year round. Numerous caimans, turtles, lizards, and snakes represent the reptile fauna. The number of arthropod species (insects, spiders, crustaceans) is not yet known. Research show La Tirimbina Biological Reserve is home to numerous species of ants, including the formidable bullet ant and the industrious leaf cutter.

For any other information please
feel free to contact us at:
Tel:(506)771-4582 Fax: (506)771-8841
Email:
selvamar@racsa.co.cr